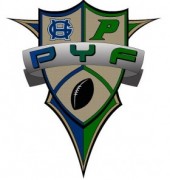 I can't believe it is that time of the year again!!! That's right its FOOTBALL TIME!!!! I don't even think Peyton Manning has had time to go to Disneyland and celebrate his Superbowl Victory, and we are ready to start registrations for the Fall 2016 Peninsula Youth Football Season. Registration for returning players begins on March 1st. New players will be allowed to register around April 1st. Go to www.peninsulayouthfootbal.org to get started.
This is a great program to help your little football enthusiast take their game to the next level. I had the pleasure of being the Wide Receiver/Corner Back Coach for our 3rd/4th Grade Mighty Mites Team last season and it was a blast. We had great coaches and great players which led us to a very successful winning season. Our boys left it all on the field after every practice and game. I have never seen a group of 3rd/4th grade boys that were so focused and determined. These kids were so good we had them running plays from hand signals before being halfway into the season!!
Any parents out there interested in getting into all of the action with us as a coach, let us know. I know that my 3rd/4th Grade Mighty Mites will be needing 2-3 coaches as two of our coaches will be moving up to the 5th Grade PeeWees with their sons. The 5th Grade team will also be in need of 3 coaches. You can send an email of your interest in coaching to the league or contact me and I will get you pointed in the right direction.
The league is set up to feed into the High School you are districted for. My Mighty Mites are the Gig Harbor Tides and will feed right into the Tides High School Program. Our High School Coach, Aaron Chantler and his coaching staff, hold meetings with the Youth Coaching staff before each season so that we are all on the same page. It is Awesome!!! If you are in the Peninsula High district you will be the Seahawks and run the Peninsula High plays. We are part of the Narrows Youth Football League and we play our home games at Peninsula High.
It is an OUTSTANDING program!! I am very proud to be a part of this Great Program in this Great Community. I could go on and on about the League but I will stop here. Please do not hesitate to contact me with any questions you might have. The Season is right around the corner so don't miss out.